News
"My Marriage Is growing Everyday with Love"- Chef 187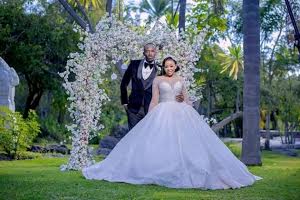 HipHop Royalty and Multi-Award winning artiste Chef 187 has barely been married for a month but the rapper is already affirming the positive growth of his marriage. Chef 187 who married his girlfriend "Yolanda" of more than 6 years last month gave a glimpse of his marriage life on social media.
The rapper was responding to a named fan who noted he has put on weight. Chef 187 quickly jumped with a reply and emphasized it's because of his marriage.  "It's called getting married bro, you will get there with time." reads part of his response.
Chef 187 
tied the Knot last month
 on the 18th at glamorous Ceremony in Lusaka. The Event was attended by close friends and family members strictly by Invitation. Not even Covid-19 could stop the "Incomparable" Numero Uno from bidding farewell to bachelorhood.
Facebook Comments